Imagine that there's a visitor at your door, right now. What do you do?
Obviously, it depends. What time of day is it? Are you home or away? Are you by the door, or in the yard? Are you expecting someone? Are you in the middle of a movie?
Every homeowner and every situation is different, which is why Alarm.com gives you a lot of options for interacting with your home. Our smart home security app can be used on a wide array of devices in many different everyday contexts. Here are four very different but equally useful ways to interact with your Alarm.com smart home.
Anytime, Anywhere: Smartphone and Tablet
Our mobile app for iOS and Android turns your smartphone into a command center for your home, pairing portable convenience with the ability to interact in depth.
From instant security alerts and quick one-tap device commands, to creating custom rules that command multiple devices simultaneously, our smartphone and tablet apps give you a complete spectrum of smart home control at home or away.
<iframe width="828″ height="496″ src="https://www.youtube.com/embed/_PmJDLMmRu8″ frameborder="0″ allow="autoplay; encrypted-media" allowfullscreen></iframe>
Voice Control: Amazon Echo
The Alarm.com skill for Amazon Echo brings the hands-free convenience of voice commands to your smart home.
Want to check the arming status of your smart home security system, change the temperature, or turn your living room light off? Just ask Alarm.com via Alexa, the Echo's voice-controlled assistant.
<iframe width="828″ height="496″ src="https://www.youtube.com/embed/ASPsi4rEKmw" frameborder="0″ allow="autoplay; encrypted-media" allowfullscreen></iframe>
You can use your voice to control and check the status of the most important connected devices around your house. Just say "Alexa, ask Alarm.com to…" followed by your command or question. Alarm.com either gives you a quick answer via the Echo, or automatically triggers the device into action.
Big Screen Monitoring: Apple TV and Amazon Fire TV
Watching TV when the doorbell rings? Use the remote control of your Amazon Fire TV stick or Apple TV device to quickly navigate to your Alarm.com app, and see exactly who it is.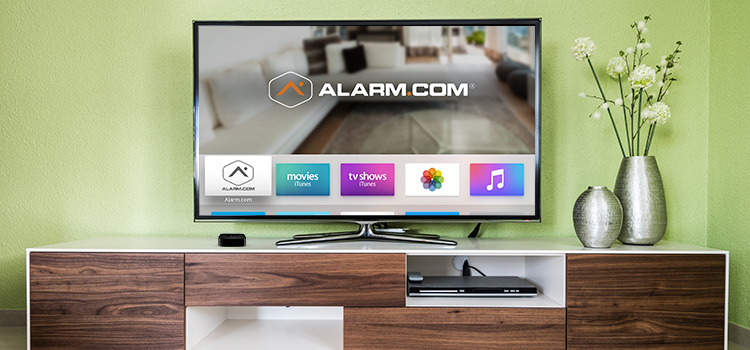 Designed for comfort and convenience, these two apps enable you to view up to four live feeds from your home's security cameras simultaneously, without ever having to look for your phone or leave the couch.
Quick Interactions: Smartwatch Apps
Our app for Apple Watch gives you– awareness, control and visibility –all with a glance at your wrist making it ideal for interacting with your home when you're at work or on the go. Taptic feedback on your wrist lets you know when something's happening; one-touch commands let you address the situation with just a quick tap. Click on the demo below to try it. If you're a Pebble smartwatch fan, we've got an app for you too – click here.